Journal
Aims and Scope
The Hitotsubashi Journal of Economics is published twice annually by Hitotsubashi University and is open to all researchers in the field of economics. Non faculty-members as well as faculty-members of the University are welcome to submit unpublished research articles for editorial consideration.
Authors submitting a manuscript do so on the understanding that if it is accepted for publication, the copyrights in the submitted work, such as the right of reproduction or public transmission, including the copyrights protected under any applicable law of any foreign countries, shall be assigned exclusively to Hitotsubashi University in accordance with Hitotsubashi Journal Copyright Policy (http://www.hit-u.ac.jp/eng/about/publications/hitotsubashijournal.html ). When the author(s) reproduce or republish the work elsewhere, please notify Hitotsubashi Journal Editorial Office in advance. All those considering submissions should consult Instructions to Authors below.
Copies are distributed to academic institutions in exchange for publications of a similar nature. Individuals may subscribe to this Journal through the following agents.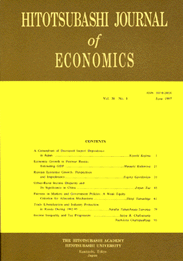 Subscription outside Japan
Japan Publications Trading Co., Ltd., Book Export II Department
1-2-1 Sarugaku-cho, Chiyoda-ku, Tokyo 101-0064, Japan
Fax: +81-3-3292-0410 E-mail: serials@jptco.co.jp
Subscription in Japan
Sanseido Co., Ltd.
2-22-14 Misaki-cho, Chiyoda-ku, Tokyo 101-8371, Japan
Tel: 03-3230-9412 Fax: 03-3230-9569
http://www.sanseido-publ.co.jp/
All communications should be addressed to the Hitotsubashi Journal Editorial Office, Hitotsubashi University, Kunitachi, Tokyo 186-8601, Japan.
E-mail: hje-ed@econ
Contents
Table of contents for each issue is available from the university repository system (HERMES-IR).
All the papers in Hitotsubashi Journal of Economics are downloadable in pdf format for free of charge from HERMES-IR.
Web page of Hitotsubashi Journal of Economics in HERMES-IR
Information
Staff
Editor
Hodaka Morita
Co-Editors
Masahiro Hori Motohiro Sato Yohei Yamamoto
Associate Editors
Jota Ishikawa Eiji Kurozumi Debin Ma Yosuke Okada Yuta Takahashi
Eiichi Tomiura Takashi Ui Izumi Yokoyama Naoki Yoshihara
Editorial Secretary
Yoko Nishiyama